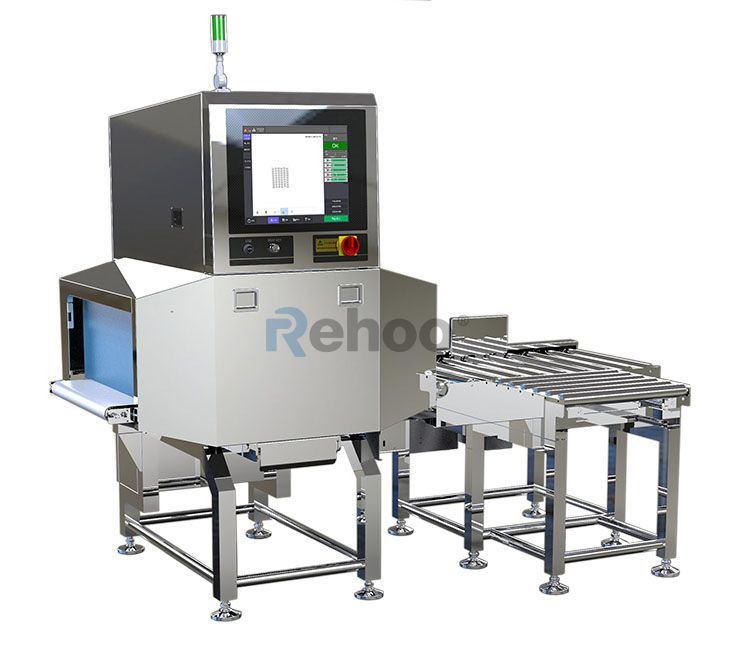 X-Ray machine for food processing,For large packaged food X ray detection.
1. Excellent performance Fully automatic foreign body and defect detection algorithm with high detection sensitivity.
2. Reliable quality Software based on Linux architecture, hardware based on industrial-grade device design and rigorous testing.
3. Simple operation Human-computer interaction design after a lot of user research, friendly and convenient interface.
4.Complete functions with various function modules such as data statistics, data storage, network communication, etc.
5.Easy maintenance: No tools required for quick disassembly, cleaning and replacement of conveyors and conveyors.
Human-computer interaction conveyor
Metal ball :(0.4mm, wire:(0.3X2mm) f Ceramic glass ball:(1.0mm)  Remarks: the minimum detectable foreign body size has a great relation with the material composition, packing material, thickness size and other parameters in the product. In the actual production environment, please refer to the actual product test results.
Maximum width 600mm,maximum height 300mm
Ambient temperature 0~45°C,relative humidity30-85% unexposed
The conveyor is IP66 and the other parts are IP40