Round Bottle Labeling Machine Product
Round Bottle Labeling Machine Product 2
Round Bottle Labeling Machine Product 3
Round Bottle Labeling Machine Product 4
Round Bottle Labeling Machine Product 5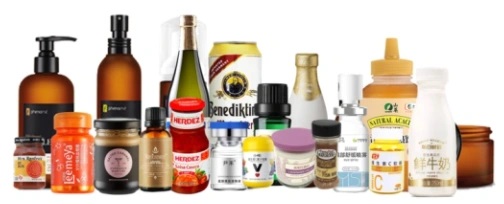 Wrap-around labeling solution

1. A large area of application for round bottle/jars/cans labeling,usually labeled wrap around ;
2. In pharmaceutical is indispensable for vial labeling, bill bottle labeling ;
3. Labeling of cosmetics, shampoo bottle wrap around labeling, detergent round bottle labeling;
4. Confectionery and good labeling from jam in jars to cereals in cans labeling wrap around ;
5. Chemical products paint round cans labeling and much more ;
Optional Features
1. Turntable at infeed and outfeed for round bottle labeling machine ;
2. One more labeling engine for machine not stop working when change label roll;
3. Visual camera detection function for printing content ;
4. Sensor for label use up, machine alarm ;
5. Sensor for product lack of label , tick it out ;
6. Machine hight can customized depends on client production line.
Machine Detail Function
Part1: Auto infeed turntable, diameter with 600mm 800mm 1000mm optional.
Part2: Labeling part,rolling label device made depends on client products Max size,labeling engine with SKILT servo control                    system and German Novexx ALS204 optional.
Part3: Auto outfeed turntable for collection.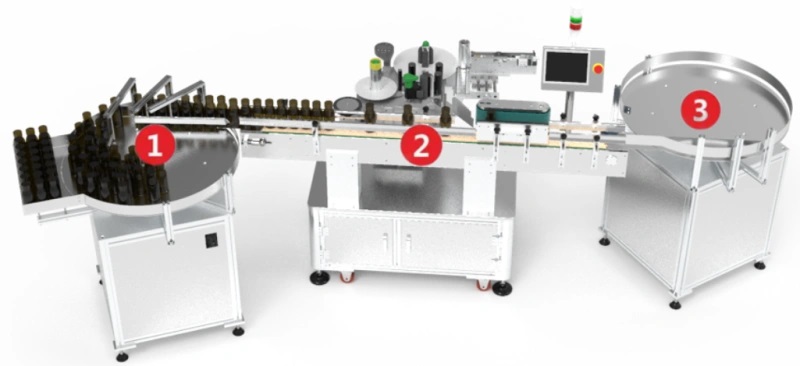 | No | Name | Brand |
| --- | --- | --- |
| 1 | PLC control system | SIEMENS |
| 2 | Touch-screen | SIEMENS |
| 3 | Labeling engine | Panisonic |
| 4 | Frequency converter | DELTA |
| 5 | Check bottle sensor | Japan KEYENCE |
| 6 | Check opaque label sensor | German Leuze |
| 7 | Main transport motor | JSCC |
| Model | SCSPLM-A & SCSPLM-ALS204 |
| --- | --- |
| Driving Model | Servo system & German Novexx |
| Label material | Self-adhesive sticker, opaque or transparent label |
| Yield(pcs/min) | 50-200pcs/min |
| Suitable label size | L:10-300mm,H:10-250mm |
| Suitable bottle size | Diameter: 28-100mm , H:30-260mm |
| Voltage | 110V/220V/380V |
| Machine size | 1800(L)× 800(W)× 1500 (H) mm |