Bag Paging & Labeling Machine Product
Bag Paging & Labeling Machine Product 2
Bag Paging & Labeling Machine Product 3
Bag Paging & Labeling Machine Product 4
Bag Paging & Labeling Machine Product 5

Auto Paging & Labeling Machine Features Introduction 
1. SCSPM-DPM-A & SCSPM-DPM-ALS2024 Series Label Applicator applies labels onto flat surfaces featuring with loading platform and high friction belting.
2. With different kinds auto outfeed for choose, to suit for client differnet kinds products, such as zip bag, pouch, food bag, card;
3. This series labeling machine can store up to 20 different product profiles consisting of different label sizes,speed and location of label placement within the machines memory for quick recall during changeover.
WHAT DOES IT HAVE?
1. Novexx Label Head Model ALS204 for 130′ or 40m/minute dispense speed
2. Label Counter, Missing Label Detection and Auto Teach
3. +/- 1 mm Label Placement Accuracy
4. High Friction Conveyor Belt
5. Speed Encoder to lock label dispense speed with conveyor speed
6. Loading Platform for speedy loading of bags. (100+ pouches per minute)
7. Fully adjustable guide railing for quick changeover
WHAT COULD IT HAVE?
1. Up to 6″ Label width with the ALS206 label head
2. Up to 9″ Label Width with the ALS209 label head
3. Different kinds outfeed collection way for choose
4. Hot Stamp Coder or Inkjet Coder
5. Online Print Applicator
6. One more applicator for two stickers on bags
7. Conveyor width and length modification
MACHINE FUNCTION INTRODUCTION
1. Feeder : Paging device, can put labeling objects (for example box) into feeder device, delivery out one by one;
2. Labeling : When bag delivery to the labeling position, past sticker on bag surface directly;
    Labeling engine with SKILT Servo control and German Novexx ALS204 for choose.
3. Collection : After finish labeling, delviery to the end part for collection. Collection with different kinds for client choose.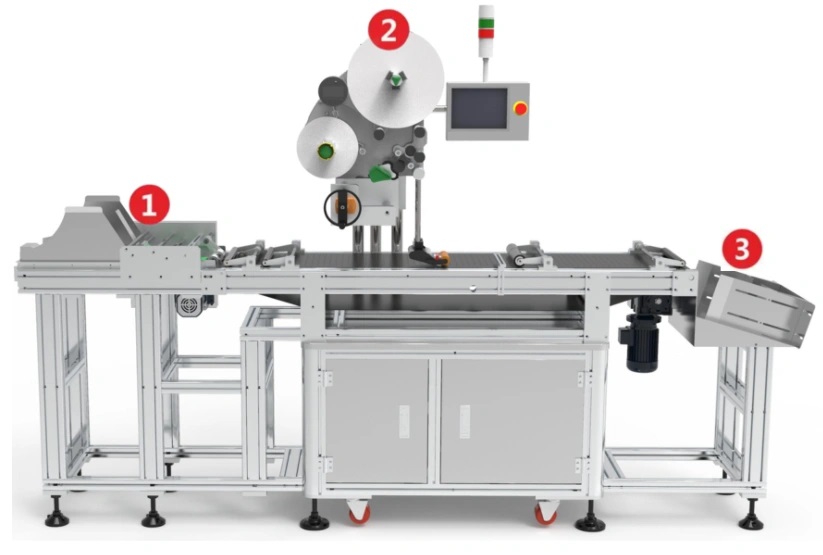 No
Name
Brand
1
PLC control system
SIEMENS
2
Touch-screen
SIEMENS
3
Labeling engine Servo motor
Panisonic & GermanNOVEXX
4
Labeling engine Drive
Panisonic
5
Frequency converter
Delta
6
Check bag sensor
Japan KEYENCE
7
Check opaque label sensor
German Leuze
Check opaque and transparent label sensor
GSU
8
Conveyor motor
JSCC
| Model | SCSPM-DPM-A & SCSPM-DPM-ALS204 |
| --- | --- |
| Driving Model | Servo system & German Novexx |
| Label material | Self-adhesive sticker, opaque or transparent label |
| Yield(pcs/min) | 50-200pcs/min |
| Suitable label size | L:15-300mm,W:15-300mm |
| Suitable bag size | L:20-300mm , W:30-300mm |
| Voltage | 110V/220V/380V |
| Machine size | 2200(L)× 800(W)× 1600 (H) mm |